Dance Recital Saturday 24 June 2023
Danz Royal is pleased to announce that our Dance Recital will be taking place at the end of this school year on Saturday 24 June 2023 at De Warandepoort theatre in Tervuren.
The recital offers all of our students an exciting opportunity to fully experience a performing art and the unique feeling of being on stage.
The experience of performing in front of an audience helps build self-esteem, self-assurance and contributes to a sense of confidence, which can help contribute to children's success in non-dance related activities.
Where
In De Warandepoort, a new 400 seat air-conditioned theatre in the heart of Tervuren right next to the park with underground parking for up to 200 cars available on-site.
When
Saturday 24 June 2023 with two separate performances; the first starting at 12:00 and the second at 17:00.
Some of the students will perform in the first show and the others will be performing in the second.
Free Photos & Videos!
After the event families will be able to download, at no extra charge, high resolution photos, taken by a professional photographer, of the shows; as well as HD videos.
Tickets
Seating is general seating (no reserved seats) and the doors will open about half an hour before each show (you cannot save seats between both shows).
Tickets must be purchased in advance (please see below) and are priced at €13.00 per ticket.
Students do not need to purchase a ticket for the show in which they will be performing.
Rehearsals
Rehearsals will be held in the weeks before and all participating students should aim to attend these, especially the ones on Sunday 11, Thursday 15 & Sunday 18 June, which will be held at the same De Warandepoort theatre in Tervuren to get that all important on-stage time before the show.
Any additional rehearsals and costume fittings will all be held at our dance studios in Tervuren.
Two Shows — 12:00 & 17:00
The groups for each show will be organised once the actual number of performers is known after the main deadline for sign-up and payment of fees has completed.
How To Register
All Danz Royal students are invited to participate in the Dance Recital for which there will be a fee of €40 per student to cover all costs associated with the purchase and rental of costumes, accessories, make-up, assistants, etc.
For our older students who are involved in 2 or more different types of classes, e.g. ballet plus pointes or contemporary, then the fee is either €60 per student to cover 2 different types of performances in a show or €80 per student if there are 3 different types of performances in a show.
Student fees are as follows:
€40 for one type of dance class
€60 for two types of dance class
€80 for three types of dance class
(plus €20 for each additional type above 3 classes)
Registration is via payment of the student participation fee (see above) plus the number of tickets to allocate for the family (and yes it will be possible to purchase additional tickets later on if still available).
Payment Details
Please use the following bank account details when making payment for the recital:
| | |
| --- | --- |
| IBAN | BE50 7350 5124 8118 |
| BIC | KREDBEBB |
| Name | Danz Royal |
| Communication | please write "Recital" plus the name of the ballet student and number of tickets |
Prices
€40
student fee
€60
student fee (for 2 different styles of dances)
€80
student fee (for 3 different styles of dances)
each additional dance style is an extra €20
€13
theatre ticket
Examples
"Recital, Annie Smith, 1 ticket"
payment is for €53 (40 + 1 x 13)
"Recital, Annie & Zoe Smith, 2 tickets"
payment is for €106 (2 x 40 + 2 x 13)
"Recital, May Smith, 2 classes, 3 tickets"
payment is for €99 (1 x 60 + 3 x 13)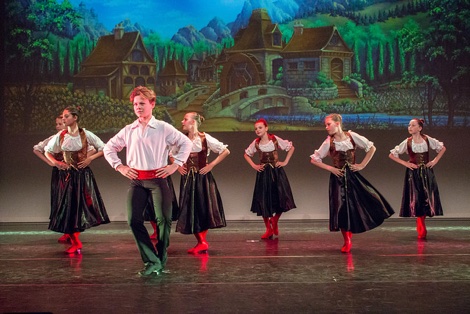 Final performing & practice schedules will be published after the Easter school holidays, once the actual number of performers is known, after the deadline for sign-up and payment of fees at the end of March has completed.