What To Wear To Class
Grades 1 to 3

Uniform for Girls
Required for RAD Examinations
Marine (light) blue sleeveless 'Aimee' leotard
with marine blue elastic belt
Pink ballet tights
Pink leather ballet shoes (preferably with a full sole) secured with elastic
Black character skirt (3 ribbons - white, light blue and royal blue)
Black canvas character shoes (Low or Cuban heel)
Optional
Marine (light) blue crossover cardigan
* This is the new uniform introduced with the updated RAD Grades 1 to 3 syllabi in 2012.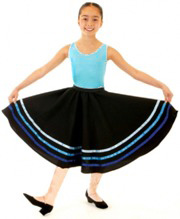 Measurements for a character skirt
Waist size (taken with good posture, standing tall but not holding your stomach in)
Length from waist to 2 inches below the bottom of the knee (the so-called "mid-calf" position)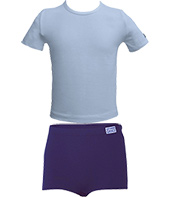 Uniform for Boys
Pale blue Dance T-shirt
Navy blue shorts
White socks
Black leather ballet shoes
Black, laced up canvas character shoes
RAD Uniform
From September, the RAD uniform will be available to purchase directly from Danz Royal at our dance studios in Tervuren on Wednesday afternoons & Saturdays during September. From October onwards, please contact us in advance to arrange an appointment.