The Benefits of Ballet for Children
How Ballet Helps your Children Develop Emotionally and Physically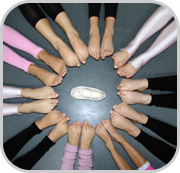 Ballet is a fun, yet challenging after school activity that has many benefits for young children - some of which they will appreciate for the rest of their lives.
It is one of the most physically demanding of all dance styles, and as such, is a wonderful way for young children to gain strength, improve flexibility and stay fit. It teaches them how to stand correctly and walk with grace and poise - qualities that will be of benefit to them for years to come, even if they choose to explore other activities.
Ballet is the ideal activity for children who do not do well academically or find it difficult to concentrate in class. By joining a ballet class they will be mentally challenged in different ways, as they learn to put steps into a sequence and remember routines. It also teaches them coordination and how to identify the left and right hand side of the body.
Interacting with other children in this fun environment will also help develop their social skills and greatly improve their confidence. As they learn to hold themselves gracefully and move with purpose, their whole countenance will begin to change. This is particularly noticeable in children who are shy or timid.
It is also an excellent activity for hyperactive children as it channels their energy in a positive way and teaches them to focus and co-operate with others.
Children who have been studying ballet for a number of years will often go on to study other dance styles like jazz or contemporary, and will find that ballet has given them a wonderful grounding. They will be strong, incredibly flexible and able to pick up the steps much more quickly as many of the steps in disciplines like contemporary and jazz have developed from steps and techniques in ballet.
by Jude Schweppe